When many people think of Oklahoma's history, imagery is evoked of our state's roots in the oil industry, our rich Native American heritage and communities, or our beautiful southern landscapes.
Equally rich, yet often overlooked however, are the artists — and their incredible works — that have contributed to the culture and legacy of our great state.
In the first of our Artists of Oklahoma series, we'll dive into the work and history of some of Oklahoma's most influential painters. Along the way, we'll hear from these legendary artists themselves or their direct descendants as we explore their work and the impact they've had on the state of Oklahoma, their respective cultures, and across the globe.
Enoch Kelly Haney
Born on November 12th, 1940, Enoch Kelly Haney is among the most celebrated of statesmen and renowned leaders of the Seminole Native American tribe in Oklahoma.
However, before his storied career as a politician and leader, Haney always saw himself as an artist first.
"I have been an artist all of my life. The creator made me to be an artist. I had no choice in not being an artist. I was an artist before I knew what an artist was."

— Enoch Kelly Haney

Chapter 5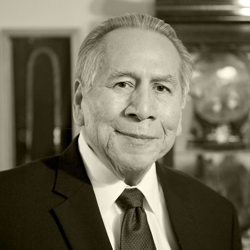 Listen to Interview
Even as a child, whether he was sculpting from the red clay in his front yard or scratching crude drawings on rocks with metal nails, Haney knew his purpose was to be an artist. His father — a master flutemaker and prolific craftsman in his own right — as well as his grandfather and siblings helped spur Haney's creativity forward through their own creative works and fostering a household that encouraged his hard work and growth as an artist.
Recognized internationally for his paintings in oil, acrylic, and watercolors, as well as his work with pastels and sculpture, Haney was declared a Master Artist by The Five Civilized Tribes Museum in 1976.
Drawn from his pride in his Native American heritage and culture, some of Haney's most celebrated paintings include "Emptiness Has a Claim on Death" and "The Earth and I Are One," which proudly hang to this day at the Oklahoma State Capitol building.
Undoubtedly best known, artistically speaking, for his legendary bronze sculptures — especially "The Guardian," which stands atop the Oklahoma State Capitol — Haney's painted works are a continued celebration of the Native American people and their unquenchable spirit.
Through his artistry in oils, watercolors, and acrylics, Haney gives Oklahomans and observers throughout the world the opportunity to experience the spirit and pride of the Seminole people and creates a gateway through which Oklahomans of all races and cultures can connect with one another.
Charles Banks Wilson
Though born in Springdale, Arkansas, the life, work, and artistic legacy of Charles Banks Wilson is an indelible part of Oklahoma's art history.
Spending the majority of his early life in the state after his family's move to Miami, OK, Charles quickly discovered his passion for painting from an early age — and wasted no time putting his creative talents to work.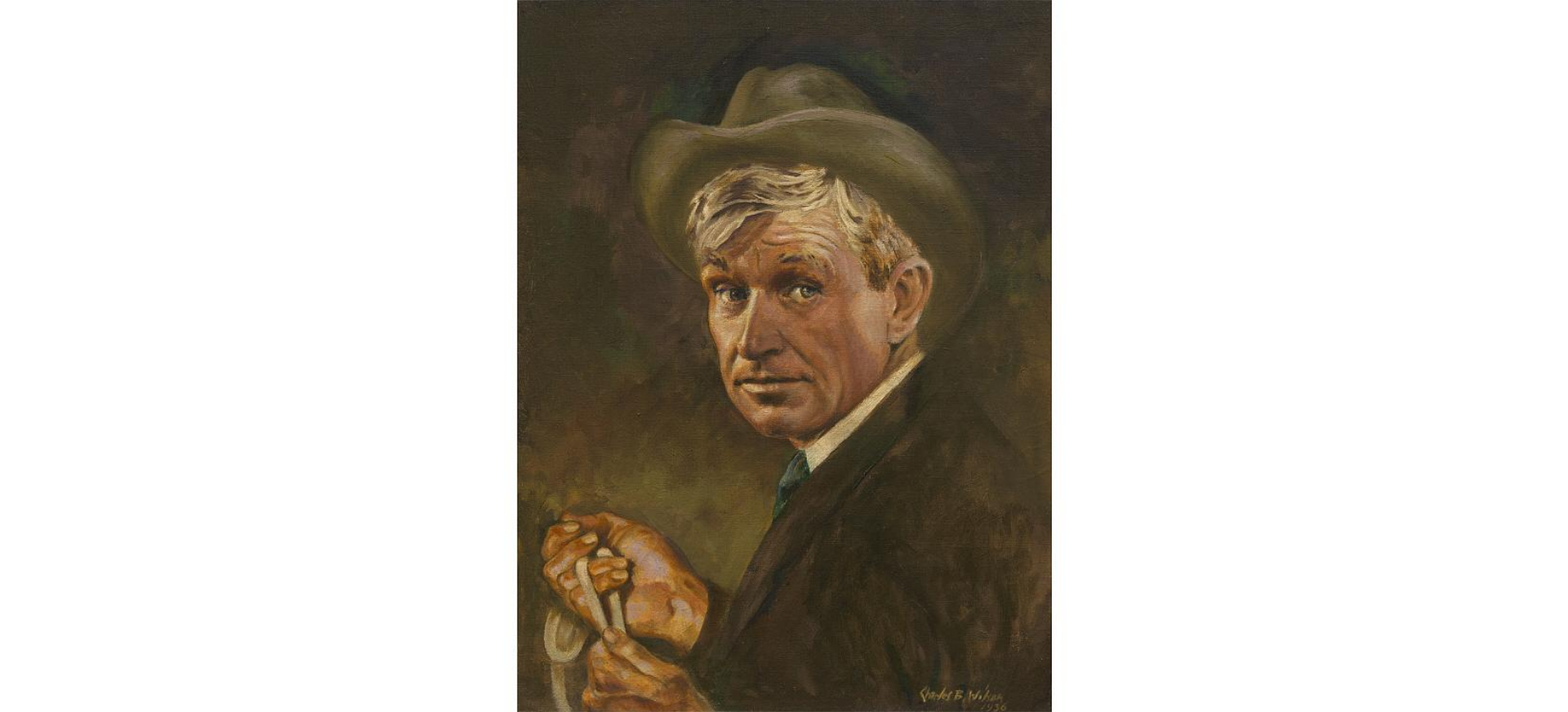 At only 14 years of age, Wilson's father arranged for him to meet the legendary Will Rogers in person. Being taken with the young man and his artistic fervor, Rogers posed for nearly 2 hours for the only from-life painting he ever sat for, and which now hangs in The National Portrait Gallery.
"And as far as I know, that's the only painting that he ever posed for, according to his children. Will Jr. and Jim Rogers said that I did the only painting as far as they know that had ever been done."

— Charles Banks Wilson

Chapter 3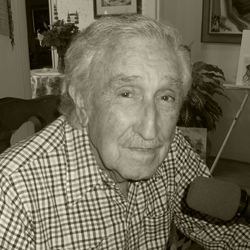 Listen to Interview
His creations as a portrait artist became a cornerstone of his artistic legacy, with subjects including U.S. House Speaker Carl Albert, the legendary Native American athlete Jim Thorpe, the Cherokee scholar Sequoyah, and U.S. Senator Robert Kerr.
As Wilson grew and continued to hone his talents, the history and culture of the Native American people became a central focus within his work. Paintings and portfolios such as "Freedom's Warrior," which depicts the involvement between Native Americans and the United States in times of both war and peace, and "Ten Little Indians," which captured contemporary Indian life, have been reproduced in nearly every country in the world.
"I think probably the most important thing I did was of the American Indian. I don't know that some of my paintings of the American Indian were my best, but I think what I have done of the American Indian has been something that I have been most proud of."

— Charles Banks Wilson

Chapter 22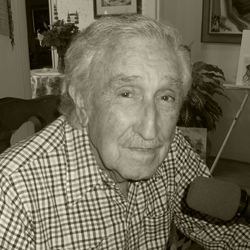 Listen to Interview
With innumerable subjects and focuses within his great body of work — including the 4 incredible murals produced for the Oklahoma State Capitol rotunda, totalling 110ft in length — Wilson's work has always communicated one thing clearly: His love and appreciation for the state of Oklahoma and its people.
Jay O'Meilia
An Oklahoma native, Philip Jay O'Meilia was born on July 17th, 1927. His impact and influence in the art history of our great state is best seen in his bodies of work depicting the grandeur and energy of Oklahoma sports, as well as the grit and spirit of Oklahoma's oil and gas workers.
Like many of Oklahoma's most influential artists, O'Meilia's creative energies were impossible to dampen.
"When I was in the third grade I remember the nuns would call my mother and said, "Well, your boy is hard to handle because he doesn't follow classes too well. He's always sitting there drawing pictures."

— Jay O'Meilia

Chapter 4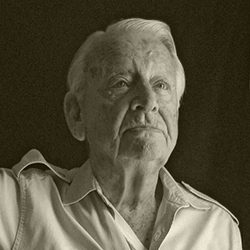 Listen to Interview
These energies, channeled supportively by his family, led to the sale of his first painting — a watercolor produced for Magnus Chemical Company — when he was only 11 years old. Over time, as he continued to practice his artistic skills during his teenage years, he began selling his illustrations and art to magazines including Collier's, Ladies' Home Journal, and The Tulsa Tribune.
Growing in his craft and renown, O'Meilia came into his own by capturing and putting to canvas two cultural — and some would argue, spiritual — cornerstones of Oklahoma: Oil and sports.
In his oil and gas works, particularly paintings like "Making Hole," O'Meilia captures the dirt, grime, and sheer force of Oklahoma manpower it takes to get the job done. His rugged brushwork and style convey the speed and power the oil workers — known as "roughnecks" — are putting into every motion.
Similarly, in sports paintings like "Moment of Victory," we see that same masterful style and control channeled in such as way as to capture the energy of the snap of the football, the charging masses of humanity of the linemen attempting to block the kick, and the sheer force of the kicker launching the football towards the uprights.
O'Meilia's ability to capture the spirit, energy, and gravitas of moments in Oklahoma's sports history and industry put him in a class all his own. And over a career that spanned a lifetime, earned him countless accolades and awards.
But, despite his many accomplishments, O'Meilia doesn't look to any of his creations to define the masterpiece of his life. For Jay, his greatest creation was his family.
"People ask what I consider to be my masterpiece, and I tell them I have five: my children."

— Jay O'Meilia

Chapter 1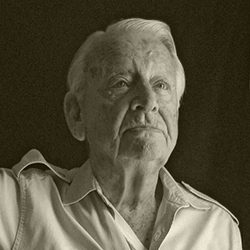 Listen to Interview
Woody Crumbo
Woody Crumbo, born in Lexington, OK on January 31st, 1912, was a Potawatomi Native American artist whose early nomadic life inspired a lifetime of creative expression that celebrated the history and impact of his people.
Orphaned at the age of 7, Woody's early life was spent in a multitude of various Native families, including those within the Creek and Sioux tribes.
As a teen, he was sent to the Chilocco Indian Boarding School, where he became a part of a small circle of friends hailing from the Kiowa tribe, known as "The Kiowa Five," with whom he began to more intently study art in all its forms.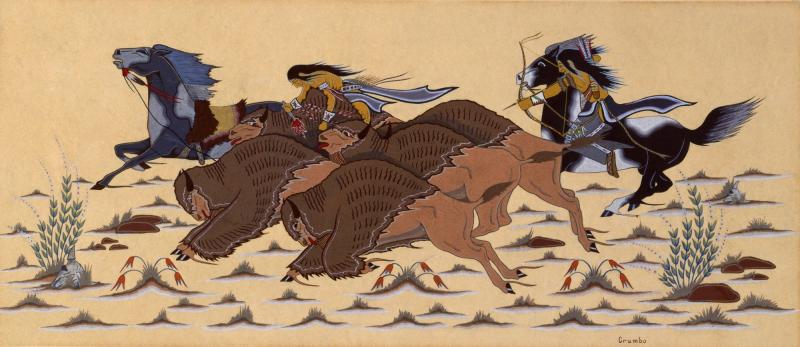 As he grew in his skill and appreciation for art, Woody found kinship in the legendary Oklahoma oilman, philanthropist, and art collector Thomas Gilcrease. Taken with the nature of Crumbo's work and his dedication to the craft, Crumbo became the artist in residence at The Gilcrease Foundation.
Toiling over his work like a true craftsman, Crumbo paid special care to ensure the sanctity of the studio space he worked within. Only 4 at the time of Crumbo's residency, his daughter, Minisa, was always reminded of how Crumbo regarded the studio and its tie to the soul of an artist:
"Don't ever do anything in the studio except paint. You can read a little bit or have a cup of coffee or something like that."

But he said, "Keep the energy clear like that."

He also said, "An artist lives in a very special place in the mind, heart, body, spirit that is slightly more oriented or a lot more oriented toward spirit."

He said, "We live there and you live there when you paint from there. And more and more you'll come to reside in that place."

He said, "As long as you're going to continue painting or being an artist you can never leave that place. It's a place of inspiration, if you want to call it inspiration."

— Woody Crumbo

Chapter 6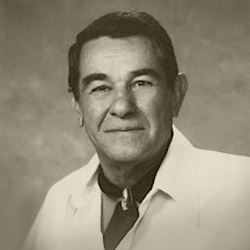 Listen to Interview
Working, collecting, and collaborating with Gilcrease during this period, Crumbo produced over 160 works which now hang in museums, institutions, and places of honor throughout Oklahoma and across the globe.
Roughly 3 years after accepting the artist-in-residence position, Crumbo left Gilcrease, knowing within his heart that the work he was there to accomplish was done. Relocating to Taos, New Mexico, he continued ever-onward in his work to honor, promote, and preserve Native American history.
Conclusion
There are countless artists who have contributed to Oklahoma's history of art and culture, and though these are only a few of the many incredible painters in our states' history, we're grateful for you taking the time to share and celebrate these people with us.
As we continue to collect their stories — only made possible by gifts from listeners and readers like you — we will continue to collect, preserve, and share their oral histories on VoicesOfOklahoma.com.
Here's to 2023 and all the new stories and histories we'll have to share with you in the coming year. Thank you for your time, your gifts, and helping us preserve the legacy of Oklahoma one voice at a time.