The headlines of today seem to be filled, more and more, with the latest exploits of the ultra-wealthy and famous. Private treks into space, luxurious private jets, extravagant vacations — each feel more ostentatious than the last.
But when it comes to Oklahoma, we've been blessed with a different breed of philanthropist. The hard-working men and women who have made their vast fortunes have, on the whole, always had a calling to generosity.
In this learning center article, we want to introduce you to some of Oklahoma's most famous philanthropists, the causes they've supported throughout their lives, and the valuable lessons they've learned throughout their lifetimes.
Maxine Zarrow
Maxine Foreman Zarrow was born June 16, 1925 in Wichita Falls, Texas. Born to Rebecca and Joseph Foreman, both Jews from Ukraine, Maxine knew from an early age the sting of discrimination.
Maxine credits her and her family's philanthropic spirit to her upbringing, particularly in the lessons her mother and father taught her as a child. Despite enduring anti-semitism in many forms throughout their lives. Maxine's parents always instilled the importance of watching over one's fellow man.
"I remember we had a little blue box and at the time, other religious people would come to the little towns and they'd distribute these blue boxes which were charity boxes. Anytime anybody took a trip and got there safe and came home safe, my mother, she'd always deposit money.

It was just sort of a way of life, I think that it's sort of in the bones of a person that you inherited from your parents even though you've not gone through what they've gone through, you can certainly still have the same feelings."

— Maxine Zarrow

Chapter 9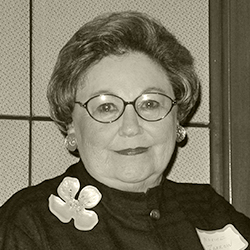 Listen to Interview
Moving to Tulsa, Oklahoma shortly after getting married to her husband, Jack Zarrow, the couple went into business with Jack's brother, Henry, in the scrap pipe business. Over time, this small business grew to be the famed Sooner Pipe and Supply. This business, through its many years of tremendous success, became a powerful amplifier of the family's and Maxine's natural generosity.
The mother of three children, Maxine — like her husband Jack — was an active volunteer with a number of Tulsa area organizations. Among her many associations, she has served on the boards of the Margaret Hudson School, The Center for the Physically Limited, the Mental Health Association of Tulsa, Gilcrease Museum and the advisory board to her alma mater, the University of Texas School of Education.
Though Maxine died in 2021, hers and her family's giving spirit continues to enrich the lives of those in Tulsa, Oklahoma and beyond, supporting Jewish communities and initiatives to combat homelessness, strengthen community mental health care, and enrich educational institutions and museums throughout North America.
You can learn more about Maxine Zarrow and her foundation's initiatives by visiting The Maxine and Jack Zarrow Family Foundation.
Gene Rainbolt
Gene Rainbolt is one of Oklahoma banking's most prominent figures, having dedicated the bulk of his career in the banking industry to revolutionizing Oklahoma's outdated and backward banking systems. But before his prominence in banking and the wealth he accumulated, he learned about generosity and tenacity during one of the nation's most challenging economic periods.
Born and raised in a single-parent home during the Great Depression in Norman, Oklahoma, times were more than a little tough. In a time where young Gene having shoes without holes was considered a luxury, the virtues of hard work and generosity were instilled within him by his parents.
Building his wealth with these virtues at his core and, in his words, by staying "loyal to Oklahoma" — his own BancFirst's slogan — Gene always kept others in focus, whether it was his customers or his own workforce. Investing deeply in his staff's care, both during their tenure with his banks and into their retirement, Rainbolt's banks had the most loyal staff in Oklahoma.
From his success and business to his success in his personal life, it can all be attributed to his constant curiosity and his enduring drive to be a blessing to others. This — being a positive agent of curiosity and change — is at the forefront of his message to future generations:
"Be perpetually curious. Curiosity brings vision. Value persistence and have self-confidence that you can take advantage of the change that's in front of us." And I tell them, "You should stay in Oklahoma, because you can have more impact here than you can in Texas or a much bigger state."

— Gene Rainbolt

Chapter 5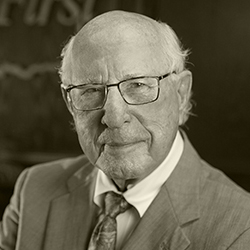 Listen to Interview
Dedicating his life and career to creating more opportunities for Oklahomans in all areas of life, Gene is a fierce advocate for criminal justice reform through the Oklahomans for Criminal Justice Reform organization, and is a stalwart benefactor for Oklahoma cancer research as a member of the Leadership Council of the Charles and Peggy Stephenson Oklahoma Cancer Center and grief recovery for family and children through the Calm Waters grief center.
T. Boone Pickens
Hard work, intuition and the nerve to take a chance describe T. Boone Pickens. A household name to the nation, Pickens is -- first and foremost -- an Oklahoman. From earning a penny a paper as a young boy to making millions, and then billions -- and then losing over $2 billion -- many counted him out, but Pickens was anything but.
His modest upbringing provided the background for a work ethic that turned his remaining investment funds of $3 million into $8 billion in profit in just a few years.
Famously known for being willing to swap places with the younger generation, Boone always inspired throngs of young audiences with his timeless advice:
"Lucky you! Lucky you. Let me tell you, I'll trade with you tomorrow. My ranch, my airplane, my bank account for your spot wherever you are, whether it's Holdenville, Ada, Claremore or anyplace else. I'll trade with you.

We can't do it. We know that. But you have what I'd like to have, is, an opportunity to go forward, do all the things I've done. You can do bigger things than I've done. You just need to work hard, commit to it, enjoy doing it, don't get stuck in a place where you're unhappy. Listen, every job I've ever had, I've enjoyed it. I've never lived any place I didn't like the place I lived.

Just have the right attitude to move forward. What you have in front of you is much, much more than what I have."

— T. Boone Pickens

Chapter 14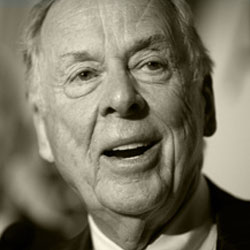 Listen to Interview
The breadth of his philanthropy — more than $1 billion during his career — included health and medical research, treatment and services; entrepreneurship; kids at risk; education and athletics, with a particular focus on his alma mater, Oklahoma State University; corporate health and fitness; and conservation and wildlife management.
While many donations involved millions of dollars and attracted headlines, there were hundreds more, ranging from hundreds of thousands to several hundred. Each, to Pickens, was important in its own way.
You can learn more about the causes supported by T. Boone Pickens at the T. Boone Pickens Foundation.
Dive Deeper into the Generosity of Some of Oklahoma's Most Influential Philanthropists
As we journeyed through the lives and enduring legacies of these generous Oklahoman philanthropists, there were common threads that tied each of their stories together:
Many came from humble beginnings.

They worked hard and preserved through many hard times.

Tough losses were experienced throughout their lives and careers.

Their virtues and, oftentimes, faith carried them through life's toughest times.

They recognized their generosity as a source of strength and success.
Whether you're a student, business owner, or just a lover of history as I am, you'll notice how hard work and the dedication to do what's right by one's fellow man underscored the journeys — and the massive successes — of each of these incredible Oklahomans. Their care and compassion for our state weren't just what made them great leaders but great people that continue to build upon enduring legacies.
But your learning doesn't have to stop here. You can visit our Oklahoma philanthropists hub page to meet more incredible Oklahoman leaders just like the ones we visited today.
Thank you for visiting and for the time you took to learn with us today. These educational articles are made possible by gifts from generous readers readers like you and help us to continue preserving and sharing the story of Oklahoma one voice at a time.