Open any social media feed and you're sure to find an endless stream of highly-processed images of super-successful entrepreneurs jetting off to their next meeting in Milan, taking in the sun's rays on their private island, or casually spending another weekend at The Ritz in New York City.
This bombardment of imagery — especially from professed entrepreneurs who seem to be getting younger and younger — can make even the most hard-working student or aspiring entrepreneur feel inadequate, or even lazy.
Pause with us for a moment. Let's step away from the high-gloss imagery of social media and the endless comparison trap, and let's look at the real lives and lessons of some of Oklahoma's most successful entrepreneurs.
From their years of successes, failures, and tenacity, let's learn what they consider to be the cornerstone values of creating a healthy business that makes a meaningful difference and benefits the lives of its customers, employees, and the communities they serve.
Ed Taylor: Satellite Communications Pioneer
Ed Taylor grew up in Camden, N.J., the son of an RCA executive making the Taylor Family the first on the block to have television.
After Taylor graduated from high school, he enrolled in Lehigh University where he majored in civil engineering. When he finished his degree, AT&T Corp. offered him a job in its management training program.
Ed spent the next 16 years of his life working for AT&T. It would be in his work for the telephone company where his desire to chart new territory would begin. While at AT&T, he helped build a satellite uplink station, the first to transmit calls between London and the United States. The company spent over $100 million on the technology that allowed 90 people to talk all at once.
It was Dec. 27, 1976, that Taylor began distributing Ted Turner's WTBS in Atlanta to cable systems via satellite. That created the first superstation. Ed helped Turner get the station's signal on satellite, then paid $1 for the right to sell that signal to cable systems around the country. He made millions from those sales, and Turner made millions from the advertising dollars generated by that larger audience. Turner called it "one of the greatest $1 investments in American business history."
Ed also started a channel with news photographs and announcers reading stories about those pictures. Ted Turner first said, "nobody was interested in 24-hour news," but after seeing the results, he started Cable News Network (CNN).
Ed's Advice: You've got to create something new.
"You've got to work hard to create something new. Without people that create things, this society is [going to fail].

If you don't want to do that, you probably ought to go to work for the government or some big corporation and you'll get a pension and health insurance and a living wage, but you can't have all the freedom …"

— Ed Taylor

Chapter 12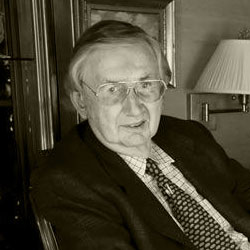 Listen to Interview
Lilah Marshall: Pioneer of Bama Companies, Inc.
Cornelia's Ala "Bama" Marshall's homemade pies were so mouthwatering and so well known. that people lined up on the sidewalk outside Woolworths soda fountain door, waiting for a single slice of that famous homemade pie.
In 1937, Bama's son Paul Marshall and wife Lilah Marshall moved to Tulsa, Oklahoma and started a full-fledged pie making business. And it was Lilah who saw the incredible growth potential of their irresistible pies and, alongside her family, helped lead the company to become the family-run, multi-million dollar success that it is to this day.
The Bama Companies can produce more pies in a single day than Alabama Marshall could have made in a lifetime and offer custom-made, oven-ready products to customers in more than 18 countries using production facilities in the U.S. and abroad.
Lilah's Advice: Find out what you want to do, never stop learning, and make it your own.
"[Aspiring entrepreneurs] just should know that they really want to do it and then find out all the ways they can get into it, the easiest way and the cheapest way.

Go from there. Learn the way. They have to make their own way.

It would be a different way probably then we made it, but they will figure it out."

— Lilah Marshall

Chapter 8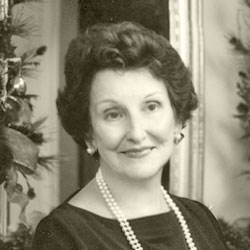 Listen to Interview
Chester Cadieux: Founder of QuikTrip
Chester Cadieux was born and raised in Tulsa, Oklahoma. After graduating from Tulsa's Central High School, Chester earned a degree in Business Administration from the University of Oklahoma and then joined the Air Force.
Three years later, he followed his business dream and co-founded QuikTrip with fellow Tulsan Burt B. Holmes. For the next forty-four years, Cadieux guided QuikTrip as President and CEO through challenges as the company successfully expanded into many states.
Over the years, Chester's business ingenuity and charitable spirit have been recognized by numerous awards and honors. They include the University of Tulsa business Hall of Fame, the Tulsa Hall of Fame, and the Oklahoma Hall of Fame.
Chester's Advice: People are everything, and always expect change.
"Leaders never accomplish great things alone. It's not the strongest of the species that survive, not the most intelligent, but the one most responsive to change

… Back when I used to talk to college students, I used to start off and say, 'You see your world now and love it or whatever, because it's going to change. Everything is going to change in your working lifetime. Don't think that you know what it's going to be like, because you can't.'"

— Chester Cadieux

Chapter 19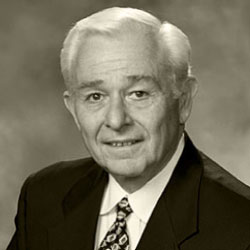 Listen to Interview
David Green
In 1972, David Green founded a small retail store to sell the picture frames he was manufacturing. With just a $600.00 loan and his retail experience, the store began to grow over the next three years.
A minister's son, during his childhood his family lived on a meager income, often relying on gifts supplied by members of the church. The Green family contributed to their income by working various jobs, including picking cotton.
From an early age, David Green was fascinated with retail sales and gained valuable experience at various stores including TG&Y. Through hard work, he grew his business from a single 300-square-foot store to Hobby Lobby Creative Centers—a privately held chain of arts and crafts stores with a 3.4-million-square-foot manufacturing, distribution and office complex headquartered in Oklahoma City.
David Green built his business squarely on Biblical principles and attributes his success to his faith in God.
David Green's Advice: Find your path.
"I would tell them that they really need to try and hear from the Lord and sense what he is saying to them, because it's going to be different for all of us.

I don't have a recipe for everybody other than just try to find your path. That's what I try to tell my grandkids. I don't tell them I want them to go to college and I don't tell them I don't want them to go to college.

I tell them to find out what God would have you to do and you follow what God's will is for your life."

— David Green

Chapter 17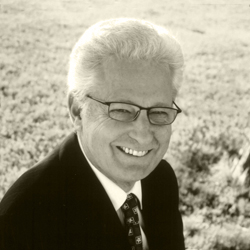 Listen to Interview
Gene Rainbolt
H.E. "Gene" Rainbolt acquired his first bank, the First American Bank in Purcell, in 1962.
In 1965, he acquired Federal National Bank in Shawnee, and two years later he and a group of investors began acquiring banks in Oklahoma which led, in 1985, to the formation of United Community Corporation, the state's first multi-bank holding company. In 1989, BancFirst was founded, which is now the largest state-chartered bank in Oklahoma.
Gene Rainbolt was born and raised in a single-parent home during the Great Depression in Norman, Oklahoma, near the University of Oklahoma campus. He could have enjoyed a promising career in academia but instead left for Army service in Korea and Japan.
He is best known for revolutionizing Oklahoma's outdated and backward banking system, a feat that took nearly 30 years to achieve.
As Gene was building the largest state-chartered bank in Oklahoma, he also helped dozens of overlooked-yet-promising children attend university while adopting a mission to create a state in which every child could have the opportunity to succeed.
Gene is a graduate of the University of Oklahoma with both undergraduate and graduate degrees. His alma mater has honored him on multiple occasions, including the Distinguished Service Award and an Honorary Doctorate.
In 1999, he was inducted into the Oklahoma Hall of Fame and has received Honorary Doctorates from Oklahoma Baptist University, Oklahoma City University, and Oklahoma Christian University.
Gene's Advice: Be curious. Be persistent. Be confident. And grow your business in OK.
"Be perpetually curious. Curiosity brings vision. Value persistence and have self-confidence that you can take advantage of the change that's in front of us …

You should stay in Oklahoma, because you can have more impact here than you can in Texas or a much bigger state."

— Gene Rainbolt

Chapter 15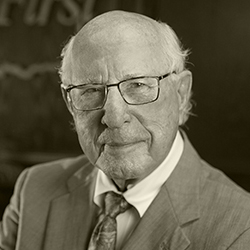 Listen to Interview
Dive Deeper into the Business Wisdom of Oklahoma
These incredible business leaders and entrepreneurs all came from different walks of life, some with origins more humble than others, but each carried in them the same spark that drove you to visit us: The spark to create, to innovate, to connect and make the world a richer, brighter place through your ideas.
As our historical teachers have shown us through their lived experiences — it won't be easy. You'll come face to face with your weaknesses, discover your strengths, and learn to dig deep to find the grit it takes to build a successful business in Oklahoma.
But your learning doesn't have to stop here. Learn from the lessons of other incredibly successful Oklahomans on our Business Leaders and Entrepreneurs hub, where you'll find even more engrossing interviews with some of Oklahoma's most influential business people.
Thank you for visiting and for the time you took to learn with us today. These educational articles are made possible by gifts from generous readers like you and help us to continue preserving and sharing the story of Oklahoma one voice at a time.