Remembering Enoch Kelly Haney
April 23, 2022 | By Voices of Oklahoma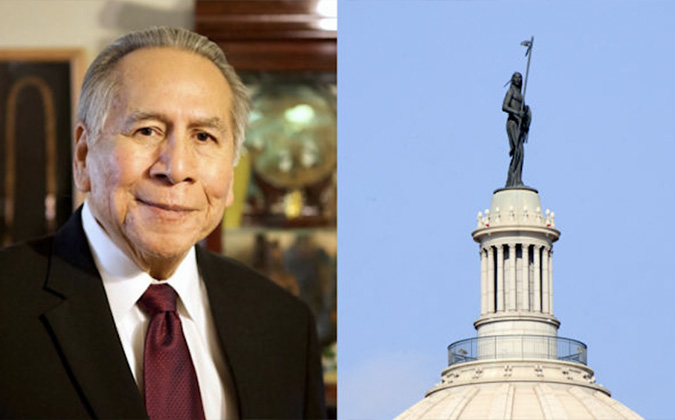 The only full blood American Indian to serve in the Oklahoma Legislature, Enoch Kelly Haney was elected to both the Oklahoma State House and Senate. He became the Vice Chair of Appropriations his second term in the House before becoming the Chairman of the Appropriations committee in the Oklahoma State Senate. After over twenty years in the state legislature from 1980 to 2002, Kelly became the Principal Chief of the Seminole Nation of Oklahoma in 2005, serving a four-year term.
Kelly Haney is an internationally recognized artist who has exhibited throughout the United States, England, Austria, and Asia, and has received the title of Master Artist of the Five Civilized Tribes. In addition to decades of success as a painter, Kelly was the creator of the 22-foot bronze sculpture, "The Guardian", that was chosen to top the Oklahoma State Capitol Dome.
Enoch Kelly Haney was 81 when he died April 23, 2022
Kelly talking about the creation of The Guardian:
"Then one day I was driving toward the capitol and this composition came in mind. It's nothing formed, it's nothing there, it's just a composition, that's all I'm looking for. When it did, I reached over and grabbed a novel, opened what was close, because I was driving. I got a pen, and it took me less than five seconds to do the marks so I wouldn't forget it.

JE: What were they, the marks?

EH: It was just a design. It was a sketch.

JE: Of a warrior. And you sketched it while you were driving in your car?

EH: Yeah, it took me about five seconds or less to do. But all I knew there was a line, so I wouldn't forget what was in my mind. That's all it was. Once I did that, I came home, I knew exactly what I wanted."
Listen to Kelly talk about English as his second language, his teacher Virginia Brown, The Guardian, and listen to him speak and sing Seminole.
Thank you for listening and for sharing Kelly's story with your friends.