World War II was a defining moment in Oklahoma history. Roughly 90,000 Oklahomans served in the war, and many of them made the ultimate sacrifice. Those who returned home faced the challenges of rebuilding their lives and communities, but they also brought with them a new sense of purpose and determination.
The legacy of World War II veterans in Oklahoma is one of service, sacrifice, and resilience. They helped to shape the state into what it is today, and their stories are an inspiration to us all.
In this article, we will meet some of Oklahoma's World War II veterans and learn the experiences they had, how those experiences shaped their lives, and the lessons they now pass down to future generations.
Together, let's meet these brave and influential Oklahomans and their legacies of valor.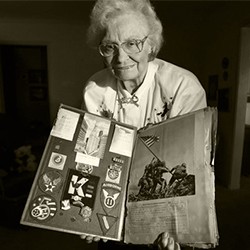 Catharine Kingsley: WWII Cryptographer
Catharine Kingsley, born in Stillwater, Oklahoma and descendant of some of the original Oklahoma land runners, was a lover of languages ever since she was young. Coming from a family of strong, educated women, Catharine's pursuit of knowledge — and language in particular — was strongly supported by her family.
This support, combined with her continual hard work and earnest passion for learning, allowed her to graduate near the top of her class at Oklahoma A&M in 1943 and earned her a scholarship to the University of Colorado.
While there, she was successful in her classes and even met her husband — who was stationed at Lowry Field in Denver — but Catharine longed for home. And upon her return, she soon discovered an opportunity that would change her life — and the lives of countless others.
The Federal Bureau of Investigation (FBI) was fervently pursuing talented language experts and communicators as translators and cryptanalysts. With these talented individuals, the FBI was aiming to assemble a team to crack the coded communications between enemies of the U.S.
Following her application in 1944, Catharine received an appointment letter directly from J. Edgar Hoover, the head of the FBI, who offered her a position as a laboratory technician.
As Catharine progressed in her work, so too did the sophistication of the codes she was deciphering to help keep the country safe. Catherine describes the work she performed in fervently studying texts on specific code patterns:
Though she served just as valiantly as any soldier during the war, Catharine was never issued any form of uniform nor a firearm. Her work, behind the scenes and rooted deep in clandestine intelligence, was, by necessity, seldom celebrated. But it's this work that helped the Allies know everything from enemy deployments to material shipments and everything in between.
Silent, clandestine, and immensely impactful, we may never know the true impact of the work of codebreakers like Catharine. For students of today, Catharine made sure to reinforce the importance of her education — especially in math and languages — as the backbone of her success and her ability to help save lives and aid the Allies in their victory: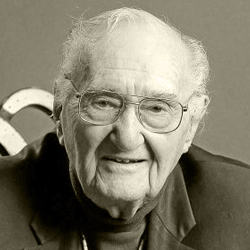 Charles Ward: WWII Infantry Officer, Renowned Architect
As a seventeen-year-old high school student, Charles Ward vividly remembers the day that forever altered the course of his life. Sitting in the commandant's office, he heard the shocking news that the Japanese had attacked Pearl Harbor. Although initially confused about the location, Ward recalls the mix of excitement and determination that filled the air—a sentiment shared by many eager young individuals ready to embrace the adventure that awaited them.
Despite being underage for enlistment, Ward and his peers yearned to contribute to the war effort. Many left school to enlist as soon as they turned eighteen, fueled by a sense of duty and a desire to make a difference.
Ward himself enlisted in 1942, embarking on a path that would lead him to extraordinary accomplishments in the face of adversity. He was called into service shortly before Christmas, undergoing basic training at Camp Walters in Texas. Graduating from Infantry Officer's Candidate School as a second lieutenant, he joined the Fifth Infantry Division and was deployed overseas.
During his time in service, Charles was part of several skirmishes and all-out assaults by enemy forces. While Charles survived these encounters, he shares the realities of war, the horrors of the sounds of war, and the long-term mental impact of war:
Following his military service, he was awarded the Silver Star from General Patton himself, Bronze Star, Purple Heart, Combat Infantryman Badge and the French Croix de Guerre.
But despite the rigors of war, Charles used his time in the service as a source of inspiration in the next chapter of his life as a world-class architect. His works, which also garnered him numerous awards in the worlds of art and architecture, include:
The Tulsa City-County Library

Oklahoma State Library

LaFortune Football Stadium

Tulsa Civic Center Plaza

Southminster Presbyterian Church
In looking toward the generations that follow him, Charles has simple — but impactful — advice: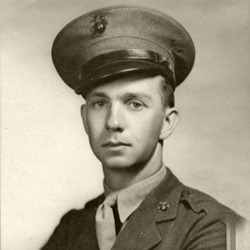 Rex Calvert: WWII Marine, Oil & Energy Industry Scientist
"Pearl Harbor attacked by Japanese!" These words rang in the ears of Rex Calvert, the then 19-year-old Tulsan. It was December 7th, 1941.
While many others his age jumped at the chance to fight in the war, Rex desired nothing more than to stay in school, graduate, and continue his pursuits in chemistry. Though he did so, and even landed a job at Mid-Continent Petroleum Corporation at such a young age, it was only 10 months before he got his draft letter. He was off to war.
Surviving the rigors of basic training, Rex was soon hardened into a battle-ready soldier. Spending more than a year learning the ins and outs of weaponry like anti-tank guns, flamethrowers, machine guns, mortars, and much more, Rex was assigned to a regimental weapons company — in charge of wielding some of the most destructive weaponry on the battlefield.
Soon, they had their first mission: To clear the Marshall Islands of the Japanese forces stationed there.
The Marines approached the Marshall Islands, fully aware of the formidable task that lay ahead. With over 3,000 well-entrenched Japanese soldiers waiting to defend the twin islands of Roi and Namur, the Marines braced themselves for a fierce battle. The Japanese soldiers occupied strategic positions, including spider-traps and tree hideouts, making the assault even more challenging:
Throughout his time in the military during World War II, Calvert would always leap to help where he was needed. From helping surgeons pack wounds and mend the lacerations of injured soldiers, to bravely capturing outposts and laying down covering fire for his fellow soldier, Calvert never shied away from doing what his fellow man asked of him.
Despite can-do attitude and willingness to bravely serve wherever he was called, Calvert recognizes that his service didn't come without a price:
Though he dodged death many times, Calvert was hit by enemy fire while in Saipan, earning him the Purple Heart. In October of 1945, he was honorably discharged and returned to Tulsa where he picked his career right back up, working for Sun Oil for more than 40 years, and raising a beautiful family.
Rex Calvert is, unquestionably, a hero in every sense of the word. His service, bravery, and self-sacrifice can't be overstated. His legacy stands as a testament to the strength of the human spirit.
What We Can Learn from These Influential Oklahoma Veterans
In meeting these influential Oklahomans, let's reflect on the stories they've shared with us and what we can learn from their lives and legacies:
A love of learning will take you far in life. With her love of language and learning, Catharine Kingsley, created many opportunities for herself and, through her hard work, impacted the lives of countless people.

You never know what life has in store for you. Charles Ward showed us that even though life may throw difficult challenges your way, the next chapter of your life — like his as an award-winning architect — may be just around the corner.

Bravery is courage in the face of fear. Life may call upon us to act even in the face of overwhelming fear. Just like Rex Calvert, we test our mettle when we choose to stand firm for our fellow man and fight for what's right despite the dangers of doing so.
Thank you for your time with us today. Educational resources like this one are only possible through the gifts of generous donors like yourself. A gift of any amount helps us continue to produce these resources and our mission of preserving the history of Oklahoma — one voice at a time.